Introduction
In 2000, the Montana Human Rights Network published  Drumming Up Resentment: The Anti-Indian Movement in Montana by Ken Toole, who noted that in addition to vertical integration from local to state to national organizations, the anti-Indian movement also developed horizontal integration, or ally relationships with groups and activists in other political and social movements, such as the anti-environmental Wise Use movement.
As Toole remarked,
There is extensive cooperation between anti-Indian groups like CERA and wise use groups like the Alliance for America. Loose affiliation between anti-Indian groups and the Religious Right is also evident primarily in the electoral arena and state legislature. Finally, despite their best efforts, anti-Indian activists often stumble into the overt white supremacist movement. It is not a surprising stumble since both movements have racist ideas at the core.
Concluding, Mr. Toole observed that the public education system is doing a woefully inadequate job of providing information to students on Indian issues. The result, he says, is that citizens are increasingly ignorant about treaty rights and tribal sovereignty. This, he warns, makes them far more vulnerable to the politics of resentment offered up by the Anti-Indian Movement.
Givers and Takers
On April 6, 2013, I received a request from the editor of the Cascadia Weekly for background on Citizens Equal Rights Alliance (CERA), which had held an Anti-Indian conference earlier that day in Bellingham, Washington. On April 10, my article Anti-Indian Conference was published at IC Magazine.
On April 17, the Cascadia Weekly editor published a column titled A history of violence. On page 4 of the April 17 Earth Day issue of Cascadia Weekly, he published my letter to the editor, "Givers and Takers", which connected the organized racism promoted by CERA to propaganda by the Gateway Pacific Terminal (GPT) coal export developers. Responding to my letter, Craig Cole, the PR spokesman for the proposed Gateway Pacific Terminal — located next to the Lummi Indian reservation — phoned the editor expressing his displeasure with my op-ed.
Lummi Nation TerritoryOn April 26, 2013, the Institute for Research and Education on Human Rights (IREHR) in Seattle published a special report by Charles Tanner Jr. titled "Take These Tribes Down" The Anti-Indian Movement Comes To Washington State.
As an associate scholar of the Center for World Indigenous Studies (CWIS) in Olympia, Washington, and communications director at Public Good Project, based in San Francisco, I have access to quite a lot of material on this topic. Most notably, Anti-Indian Movement on the Tribal Frontier by CWIS chair Dr. Rudolph C. Ryser, and Wise Use in Northern Puget Sound by former Public Good research director, Paul de Armond.
On May 13, 2013, it came to my attention that Skip Richards – one of the two organizers of the April 6, 2013 CERA conference, and a strategist of anti-Indian campaigns in the 1990s — was scheduled to speak at a May 24 luncheon for the Republican Women of Whatcom County, at the Bellingham Golf and Country Club. In response to this information, I added the following background on Skip Richards as an appendix to my April 10 article at IC Magazine.
For background on Skip Richards, readers might find the following Public Good Project special reports useful.
Some news articles about Skip Richards' collaboration with Christian Patriot militia:
After sending my updated article to the Whatcom League of Women Voters, with a note about the likelihood of Richards leading a hate campaign against tribal sovereignty by appealing to the Tea Party wing of the GOP, I informed my Public Good colleagues that Richards and other entrepreneurial merchants of fear were apparently "hovering around the treaty rights/water rights/GPT conflicts probing for an opportunity to recreate the climate of fear that twenty years ago allowed them to capture the Whatcom County Council". Additionally, I noted that "The PACs and non-profits the property rights network established back then for political power later spawned the anti-Indian, militia organizing".
On May 16, 2013, IC Magazine published a follow-up to my April 10 article, titled Anti-Indian Sociopath Skip Richards At The Country Club: Is Media Complicity And Public Amnesia Enough?, and I sent the following message to the Public Good network:
"In addition to lacking a moral compass, Richards apparently believes that simply denying proven collaboration with militias, and overwhelming evidence of his having built a career on malicious harassment is sufficient to absolve him from accountability for his actions. It is truly astounding he ran for senate at the same time his militia pals were arrested by the FBI.

His recent appearance as a guest speaker at a blatantly racist conference — alongside his cohort of bigots from twenty years ago — at which he pretends to know nothing about the anti-Indian movement is mindboggling. His present posturing as an innocent water consultant, when his record shows he actively engaged in water resource conflicts with anti-Indian activists throughout the 1990s, indicates he is astonishingly adept at self-delusion."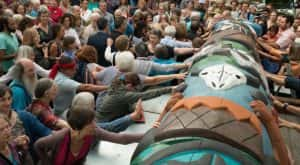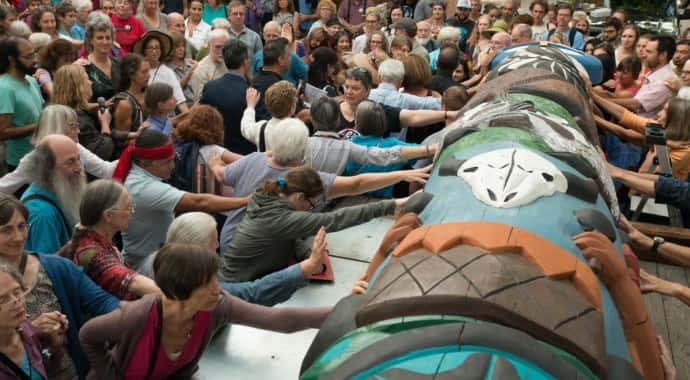 "I was a witness to the journey and can say with deep conviction that this journey mattered. It mattered to those assembled, to the travelers, to the multitudes that read about it in the paper, heard about it on the radio, or saw it on TV, to landscapes and their lifeforms, and (in my mind), to the unseen forces within and around us that ask of us only our steadfast faith. This is a coming together." —Kurt Russo, Sovereignty and Treaty Protection Office, Lummi Nation
Horizontal Integration
On June 4, 2013, I came across a link to YouTube videos from the Gateway Pacific Terminal panel forum, featuring Washington State Senator Doug Ericksen, Dave Warren of Northwest Jobs Alliance, Whatcom County Realtors Association lobbyist Perry Eskridge, and realtor Mike Kent, whom I knew to be the brother of former KGMI radio host Jeff Kent—noted in the Profits of Prejudice PDF, attached to my April 10 IC Magazine article. As a KGMI radio host in September 1995, Jeff Kent led Fee Land Owners Association (FLOA) representatives Jeff McKay and Linnea Smith in an hour-long diatribe against the Lummi Indians.
In August 2013, Whatcom Watch monthly included a supplement by Jewell Praying Wolf James of the Lummi Indian Tribe titled The Search for Integrity in the Conflict over Cherry Point as a Coal Export Terminal. In the October-November 2013 issue of Whatcom Watch, Sandra Robson's article How Property Rights Can Become Property Wrongs was the cover story. In the article, Robson recounts the violent history of property rights groups in Whatcom county, and notes that the co-organizer of the April 6 CERA conference was Tom Williams, a Minuteman militia member, and CERA board member. Paul de Armond's 2005 Public Good Project report Racist Origins of Border Militias sheds light on what these white supremacists are all about.
On October 9, 2013, the Whatcom Tea Party sponsored a Gateway Pacific Terminal Debate at the Building Industry Association of Whatcom County (BIAWC). As reported by Paul de Armond in the 1995 Public Good Project special report Wise Use in Northern Puget Sound, the BIAWC had been an active supporter of Wise Use terrorism against environmentalists and Native Americans in 14 Washington counties, including Whatcom, where Skip Richards was a paid BIAWC agent provocateur.
Also on October 9, 2013, Cascadia Weekly ran an editorial titled Polar Chill, noting the editor is "dismayed to see coal export interests laundering large amounts of campaign contributions" suggesting that "the early promise of coal export interests to be good corporate citizens was a lie". The following three paragraphs of the editorial are worth reading in its entirety:
As noted by Western Washington University Professor Todd Donovan, and detailed by local political blogger Riley Sweeney and Seattle media, Pacific International Terminals donated $30,000 to the state Republican Party. Burlington Northern Santa Fe Railroad donated another $10,000. These contributions were turned over to state party vice-chair Luanne Van Werven, who also heads the Whatcom County Republicans. Van Werven then distributed $1,500 to each selected candidate, along with $17,000 to Whatcom Republicans. Whatcom Republicans in turn funneled $17,000 to Republican-endorsed Whatcom County Council candidates. The transfers, Donovan noted, are not typical for local elections. The transfers both exceed the cap on contributions an individual may make and disguise the contributions' origins. Coal interests do not appear on these candidates' disclosures, but the laundered funds are available for candidates' use in the election.
"It appears that Pacific International Terminals and the Burlington Northern Santa Fe Railroad have earmarked campaign funds given to the state Republican Party such that these funds exclusively benefit candidates in Whatcom County," Donovan wrote to the state Public Disclosure Commission, which investigates alleged campaign finance irregularities. Donovan is a political scientist and elections expert.

"This practice allows Pacific International and BNSF to disguise the fact that they are a primary source of campaign funds for these candidates and for the Whatcom County Republican Party," Donovan wrote to the PDC. "This practice allows Pacific International and BNSF to spend money on Whatcom County candidate races in excess of what is allowable under state law."
Anti-Indian Related Posts
Other Related Links