Farrah Garan, MA
CWIS Certificate in Fourth World Studies with a focus on Consciousness Studies.
"My studies at CWIS enabled me to explore my deep, burning questions. I was given just the right balance of direction and guidance, while still having ample space to follow my heart I am very grateful for CWIS and for Dr. Ryser who guided me with gentleness, while channeling my passion and exploration into something that was both academic and heart-felt."
I completed my CWIS Certificate in Consciousness Studies and combined it for Masters degree in Perception and Communication (with a cultural focus) I am the author of Sensory Perception: Agent for Paradigm Shift… I founded Tibetan Healing Movement to support the spread of the Tantrayana Buddhist practices I received from Tulku Lobsang.
Sandi Loytomaki, B.S.
CWIS Certificate in Fourth World Studies with a focus on Traditional Medicine
"The CWIS certificate program prepared me for excellence in clinical service. Since graduating  I have been able to apply Traditional Medicine principles in modern life both personally and professionally.  A unique side benefit was the  I was ability to survive fully recovery from a  'terminal' illness."
Sandi Loytomaki hales from Sami and Italian heritage. She completed a Certificate in Traditional and Energy Medicine. She studied Indigenous and Integrative medicine, knowledge acquisition and translation in Traditional Elders, Ethnobotany, Ethnonutrition, advanced body/energy work and counseling with a focus on trauma, recovery and Intercultural relations. Sandi operates a clinical practice in Indigenous and Integrative medicine, located in Toronto, ON, while completing a MSc in Osteopathic Manual Sciences. She serves clients locally and internationally.
Elise Krohn, M.Ed.
"The CWIS Certificate Program provided me with a knowledge-base to build a unique career in ethnobiology and ethnonutrition. I am grateful to my mentors at CWIS who helped me to build skills to work cross-culturally, to listen to community needs and to develop relevant resources. I not only received an education, but I explored how I learn best and how to empower others to engage in their own learning as well.."
Elise Krohn, M.Ed. is a graduate of the CWIS Certificate program in Traditional Medicine. She is educator, author, herbalist, and native foods specialist in the Pacific Northwest. She is committed to cultivating healing relationships between people, plants, place and cultural traditions. During her 17 years of experience teaching in tribal communities, she has worked with elders and cultural specialists to create successful community gardens, food sovereignty resources, a program on healing addiction, and curricula on chronic disease prevention. She has authored two books and is currently a fellow at Center for World Indigenous Studies. She is also an educator at Garden Raised Bounty, where she is developing a K-12 curriculum on Northwest plants called Tend, Gather and Grow.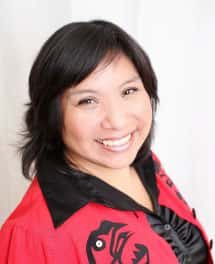 Amy Dejarlais, B.A., MA
CWIS Certificate in Fourth World Studies with a focus on Consciousness Studies.
"I am profoundly grateful for the CWIS Certificate program. My Indigenous thoughts, ideals, and consciousness were valued and affirmed…vitally important to my well being and confidence participating in academia. Chi miigwetch to my mentor, and to everyone involved in the program."
My name is Waabaakakakzhe zhaashkeezhgokwe n'dizhnikaaz / White Raven Woman with Turquoise eyes, Wasauksing N'doonjibaa/ I am from Wasauksing First Nation, Ojibway/Bodwewotomi Anishinabekwe n'daaw/Ojibway/Potowottomi Anishinawbe Nation. I studied Social Justice, Historical Trauma, Indigenous Worldview, Indigenous research methodologies and policy. My thesis was, Emptying the Cup: Healing Fragmented Identity, about Anishinawbekwe (female) perspective on historical trauma and culturally appropriate consultation.
Katharine G. Rosenmeyer, B.A
"By participating in the CWIS certificate program, I received PhD level insight into indigenous governance issues working directly with Dr. Ryser. I now have a depth of knowledge and context for decision making that I use working for my Tribe. I can contribute to the future of my tribe in practical ways that measurably contribute to Nation-building and strengthening of our Sovereignty."
A member of the Quinault Indian Nation , Kathy is using her knowledge gained during her Certificate in Fourth World Indigenous Governance In her role as Chief of Staff to the Quinault President, and as a Land Use Planner in the Department of Community Planning. I have worked in Indian Programs for the last 22 years.  Prior to that  I worked for the University of California at Davis, where I received her BA in International Relations, with my emphasis in World Resources.