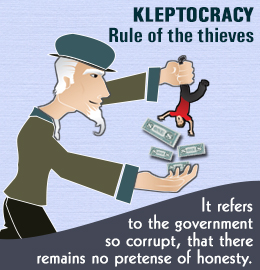 Kleptocracy is defined as a form of government by those who seek chiefly status and personal gain at the expense of the governed. Frequently kleptocracies are ruled by corporate business leaders or directly by corporate businesses. After 35 years of what seemed like a growing consensus among UN Member States that indigenous peoples' rights should be respected and protected as enumerated in the UN Declaration on the Rights of Indigenous Peoples. One hundred forty one states later joined by four or five more (notably the US, Canada, Australia and New Zealand approved the United Nations Declaration on the Rights of Indigenous Peoples (UNDRIP) in 2007. Though significantly modified from what was originally agreed to by delegations of indigenous peoples in the early 1990s, the language of the Declaration satisfied many as an early step in the right direction.
A key phrase rendering the Declaration as a little bit more than paper states that indigenous peoples (nations) must be recognized as having the right to exercise the free, prior and informed consent when matters concerning their interests come before state or other decision-makers. Now, it is quite obvious that for this phrase to have any real meaning in practice all parties must assert the right of free, prior and informed consent; and all parties must respect the decision of those either giving or not giving their consent. This is fairly legalistic and might suggest that responsible leaders will follow the rule of law, but two things appear to defeat this idea of consent by indigenous nations: States essentially ignore international law when it suits their decision makers, and there is no mechanism between indigenous nations and states that can be called upon to enforce compliance with recognizing and exercising the right of free, prior and informed consent.
There is now a third reason why we will see this important principle dashed: States essentially becoming publically recognized kleptocracies. The main state powers in the world have fallen to the whims of fearful populations supporting essentially autocrats and dictators who foster and promote kleptocratic policies that stand to injure indigenous peoples the world over. All of the powers claiming control over security questions at the United Nations (Russia, China, France, Britain and the United States of America) have swiftly become autocratic states or will formally be so by May 2017 (French Elections). None of these governments is willing to recognize the rights of any indigenous nations to exercise self-determination, self-government or the right to free, prior or informed consent before decisions are made that can adversely affect indigenous peoples' interests.
I have searched for a single term to describe the form of government these states have confirmed: Kleptocracy. They are ruled by individuals who do not respect international law or the rule of any law (they torture, violate human rights with impunity and jail people at alarming rates and steal property, wealth and lives with impunity). The political policies these states and now growing numbers of other states such as Canada, the Netherlands, Hungary, Bulgaria, Mexico, Honduras, El Salvador, Nicaragua and many more have long practiced kleptocracy toward indigenous nations.Now the political movement that fosters this approach to government can be recognized as Trumplicans — followers of a businessman, Donald Trump…the ultimate kleptocrat.